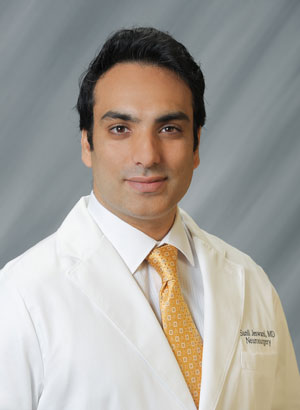 Neurosurgeon

Education: University of Michigan, Cedars-Sinai Medical Center, University of Southern California, Wayne State University School of Medicine.
Dr. Jeswani specializes in the surgical management of diseases affecting the brain, skull base, spinal cord, spinal column, and peripheral nerves. He graduated with University Honors from the University of Michigan with a dual degree in computer science and molecular biology. He then pursued graduate work at the Massachusetts Institute of Technology, where his research focus involved machine learning algorithms and their application to biomedical engineering problems.
He then attended Wayne State University School of Medicine in Detroit, Michigan where he graduated in the top ten percent of his class and was elected to the prestigious Alpha Omega Alpha National medical Honor Society. He was also awarded the Charles and Ann Pofreika Award for his academic achievement during medical school.
He then went on to complete a residency in neurosurgery at Cedars-Sinai Medical Center, where he was involved in over 2,000 surgeries. During his residency, he scored above the 90th percentile in the neurosurgery written board exam. He was also awarded the Leo G. Rigler award for outstanding resident achievement, as well as the Moise Danielpour Academic Achievement award.
He finally pursued a post-residency fellowship at the University of Southern California in complex and minimally invasive spine surgery. Dr. Jeswani has also published numerous peer-reviewed articles in national journals, several book chapters, and abstract presentations at national conferences. His clinical interests include neurosurgical oncology, skull base surgery, cerebrovascular surgery, spinal oncology, spinal deformity, and minimally invasive surgery.